LINC Polska na Retail Show
16-17 listopada 2016| Warszawskie Centrum EXPO XXI, stoisko B16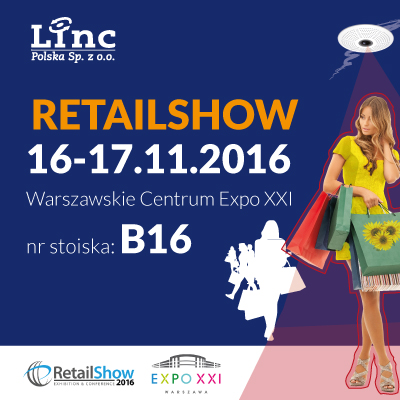 W dniach 16-17 listopada br. spółka LINC Polska będzie jednym z wystawców siódmej edycji Targów Wyposażenia Sklepów Retail Show.
Wydarzenie to jest największą imprezą w Polsce o charakterze B2B dla sektora Retail. Podczas 2 dni swoją ofertę zaprezentuje aż 200 firm z kraju i ze świata. Osoby odwiedzające targi będą mogły poznać najnowsze trendy z zakresu m.in. projektowania sklepów, wyposażenia, kas fiskalnych, wag, systemów informatycznych, usług outsourcingowych, a także systemów zabezpieczeń i ochrony.
Na stoisku B16 przedstawiciele firm LINC Polska oraz MOBOTIX zaprezentują systemy zabezpieczeń i ochrony dedykowane dla branży Retail.
Wśród ww. rozwiązań znajdą się m.in. kamery posiadające funkcje analityczne, które umożliwiają:
 zliczanie osób,
 tworzenie map ciepła oraz
 wykrywanie przeciwnego kierunku ruchu danego klienta, skręcania itp.
 Oferowane przez LINC Polska kamery zostały stworzone w taki sposób, by współpracować z systemami automatyki budynkowej oraz z systemami alarmowymi, dzięki czemu mogą stanowić integralny element całego systemu zarządzania obiektem handlowym.
Ponadto ww. urządzenia będzie można zobaczyć na żywo w tzw. The Perfekt Store – Sklepie Modelowym. Zostaną one zamontowane w różnych jego częściach (nad regałami, przy kasie itp.) tak aby już na miejscu, można było przekonać się osobiście o ich funkcjonalności.
Uczestnictwo w targach będzie również okazją do udziału w licznych konferencjach, warsztatach i prezentacjach.
Gorąco zapraszamy na stoisko B16!